NEW DELHI: Four years after the UPA was ousted from office, senior Congress leader and lawyer
Kapil Sibal
says the then
CAG
Vinod Rai exceeded his brief in alleging a scam in the allocation of 2G spectrum contracts to the tune of Rs 1.76 lakh crore. The subsequent scam storm was one of the reasons the UPA lost the "battle of perception" in 2014, according to him.
In a new book titled 'Shades of Truth', penned on the UPA and NDA years, Sibal has also admitted that the UPA did not show the stomach to rebuff the onslaught of allegations which could have been defended. "There were some forces which created an environment in which we were vilified … And our government was not able to stand up. Only a couple of people stood up, it should have been a collective effort," he told TOI.
Asked about the colleagues who were reluctant to defend UPA, Sibal said, "There is no point naming people."
The UPA government, which was hit by the alleged 2G scam, was vindicated by a court judgment acquitting the accused and ruling that there was no evidence to back the charges, Kapil Sibal said. "Ultimately, Vinod Rai's conclusions and the court's (SC) decision (to cancel 2G licences) came to naught. However, by that time, those who wished to enter politics were safely ensconced in positions of power," he writes in his book, claiming there was a conspiracy against UPA.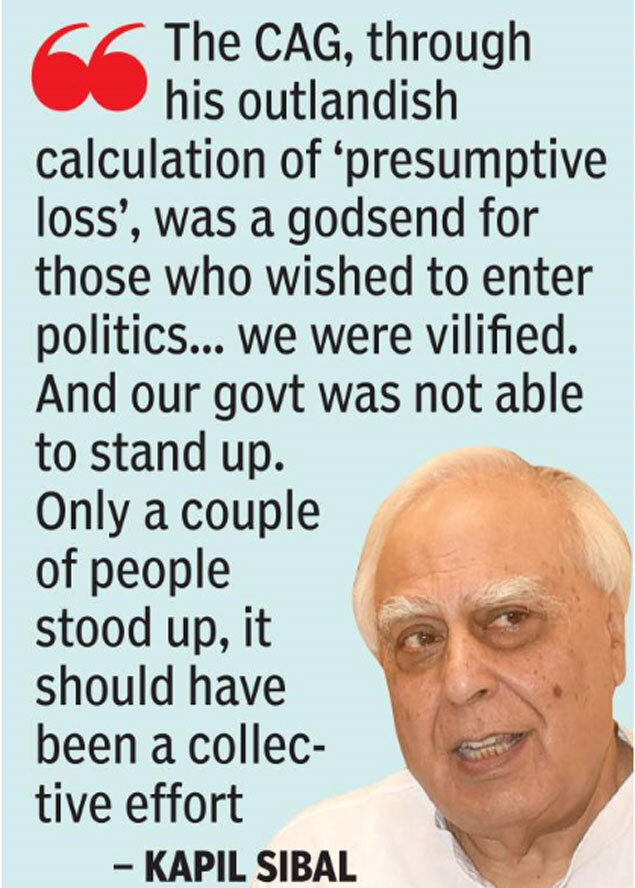 According to the lawyer-politician, who held crucial portfolios in the Manmohan Singh government, the UPA regime was derailed by a "myth" of scams — including 2G and Coalgate — and the Baba Ramdev-Anna Hazare agitations. Seeking to negotiate with anti-corruption crusader Anna Hazare was "a mistake". He also conceded that the meeting with Baba Ramdev at Delhi airport was a big mistake with "hurtful optics".
He claimed BJP was one of the key forces stirring and riding the anti-corruption agitation. While the party succeeded in painting Narendra Modi as the panacea to the ills plaguing the country, the BJP government had been a failure on social and economic fronts. "This PM's decisions have disrupted politics and economics of this country. Disruptive politics has led to violence on the streets, people being lynched, people being arrested for criticising others. The Dalit community is up in arms, Kashmir is in a mess," he said.
Sibal believes Modi and BJP will not return to office in 2019 "as a quiet dissent is building throughout the country". But, he says, Congress cannot be complacent and should seal strategic alliances in the states.