NEW DELHI: Unique Identification Authority of India (UIDAI) — the body that issues
Aadhaar
numbers — on Friday clarified that it has never asked phone manufacturers or service providers like Airtel, Vodafone and others to add its toll-free helpline in the default list of public service numbers.
UIDAI has reiterated that it has not asked or advised anyone including any telecom service providers or mobile man… https://t.co/MgADTsZU5t

— Aadhaar (@UIDAI) 1533288434000
The clarification comes in the wake of the anonymous vigilante hacker– who claims to be a French security researcher and goes by the name of Elliot Alderson on Twitter — creating a stir on the micro-blogging site on Thursday, after he pointed out that many people have 1800-300-1947 saved against the name UIDAI by default in the contact list of their phones.
#Aadhaar card, with and without the mAadhaar… https://t.co/4p2CqLpahV" data-createdat="1533194537000" data-id="1024918292727848961">
Hi @UIDAI, Many people, with different provider, with and without an #Aadhaar card, with and without the mAadhaar… https://t.co/4p2CqLpahV

— Elliot Alderson (@fs0c131y) 1533194537000
A Reliance Jio representative said they were immediately not aware of any such number being saved on their network, while a spokesperson for India's largest telecom company Bharti Airtel said they were looking into the issue and would come back with a response. (We'll update the story once we have a statement from the company) This writer uses an Airtel number and has the toll-free number saved as a default on his phone.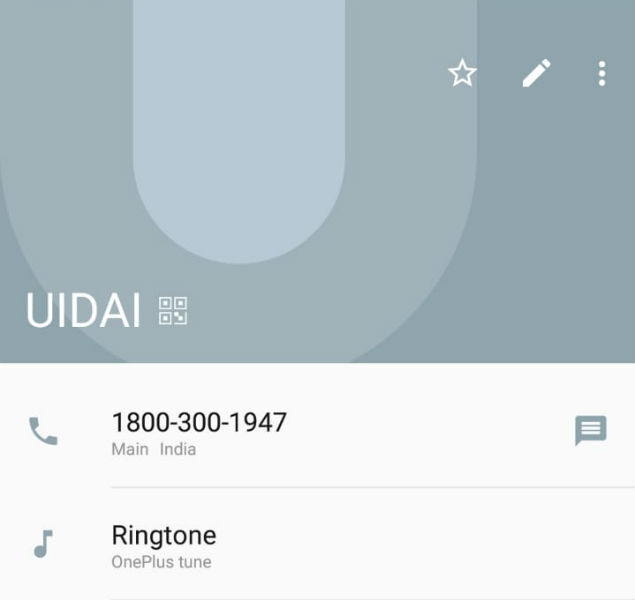 UIDAI has gone on to clarify that the number is an old one, which is not in use and 1947 is the new helpline. However, some Twitter users were quick to point out that new phones reportedly have 1947 saved as default.

Just Noticed. Many new mobiles sold in India coming with UIDAI 1947 tollfree number prestored in contacts.Noticed t… https://t.co/1AV0cKKUFV

— Anivar Aravind (@anivar) 1510463449000
TOI could not immediately verify the claim.
A snap survey revealed that the helpline number seems to be only saved as a default on Android phones and is not part of iPhones default public service numbers list.
We have written to Samsung — which has the biggest market share for smartphones in India — for a comment on the story and are awaiting a response.