NEW DELHI: Liquor baron
Vijay Mallya
's statement on Wednesday that he met finance minister
Arun Jaitley
before he left the country became the matter of the moment for the BJP and the Congress, who spent Thursday organising two press conferences each exchanging blows. Here is a summary of who said what.
Jaitley-Mallya meeting lasted 15-20 minutes: PL Punia

Congress MP PL Punia claimed that he was an eyewitness of the meeting between Jaitley and Mallya in the Central Hall of Parliament before the businessman fled the country on March 2, 2016. Punia claimed the meeting between Jaitley and Mallya lasted 15-20 minutes and asked if Mallya had taken permission from Jaitley about his planned flight abroad.
Mallya was given a free passage to leave the country: Rahul Gandhi

Congress lapped the opportunity with its president Rahul Gandhi accusing Jaitley of "colluding" with Mallya and demanding resignation of the finance minister. He further questioned that when Mallya had confessed to Jaitley about leaving for London then why the finance minister did not mention this to the CBI, the ED or the police.
Allegations against Jaitley false: Ravi Shankar Prasad

Union law minister Ravi Shankar Prasad said that all the allegations against Jaitley were "false". Referring to Rahul Gandhi's recent visit to London, Prasad asked "if there was anything common between them (Mallya and Rahul Gandhi)?" Questioning the UPA government, Prasad asked that why was a second restructuring of Vijay Mallya's loan allowed in 2010 contrary to the rules and at whose behest did the RBI direct the SBI to grant this restructuring.
This comes after the visit of Rahul Gandhi to London. Are Vijay Mallya and Rahul Gandhi working in tandem? Is the C… https://t.co/j2uFN54RSl

— Ravi Shankar Prasad (@rsprasad) 1536819742000
First Rahul Gandhi should resign: Piyush Goyal

Railways minister Piyush Goyal, who addressed a press conference at the BJP headquarters, said Rahul Gandhi was "facing serious criminal charges" . Referring to the ongoing National Herald cases against the Congress chief, Goyal said that "those who took loans from hawala companies and accumulated wealth by taking government land free of cost and whose case was rejected by Delhi high court, should resign first."
Piyush Goyal was on SBI board when Mallya's loans were sanctioned: Priyanka Chaturvedi

Congress spokesperson, Priyanka Chaturvedi, training guns at Piyush Goyal said that Goyal was "on board of SBI from 2004-2008.How did SBI give Mallya loans?"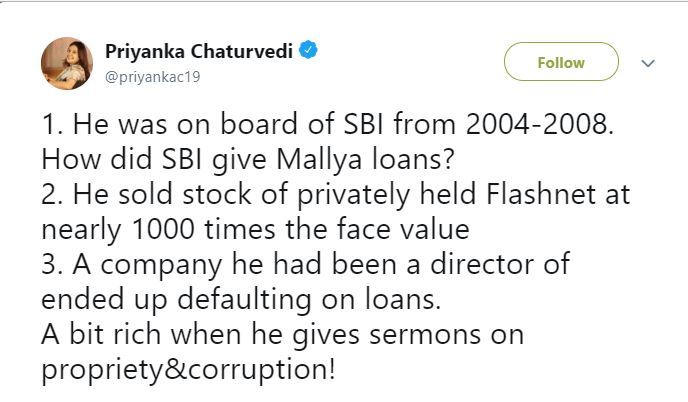 Why was look-out notice changed to inform notice: Randeep Singh Surjewala

Congress Communications In-charge Randeep Singh Surjewala posed specific questions to the Modi government. "Who asked CBI to change its look-out notice of October 16, 2015 into a mere 'inform notice' on November 23, 2015?" he asked. Surjewala further said that the banks delayed filing of the case in the Supreme Court and why was no action taken against Vijay Mallya for bank fraud despite registration of an FIR by CBI on July 29, 2015.
UPA gave a "sweet deal" to Kingfisher: Sambit Patra

BJP spokesperson Sambit Patra alleged that there were documents that show how RBI and UPA under Sonia Gandhi and Manmohan Singh had given "sweet deals" to Kingfisher Airlines. Showing a bunch of letters written by RBI to SBI, at a press conference, Patra claimed that the documents prove that Kingfisher Airlines was owned not by Mallya but by the Gandhi family through proxies. The accuracy of the documents could not be ascertained and there was no immediate response from Rahul Gandhi's office.
(With inputs from agencies)