CLAIM
Fake news reports circulating on the Internet and social media claim that Aurangzeb, the sixth Mughal emperor of India, once fought a war with China, defeated it and took control of Hindu pilgrimage Kailash Mansarovar from the Chinese as a gift to Hindus of India.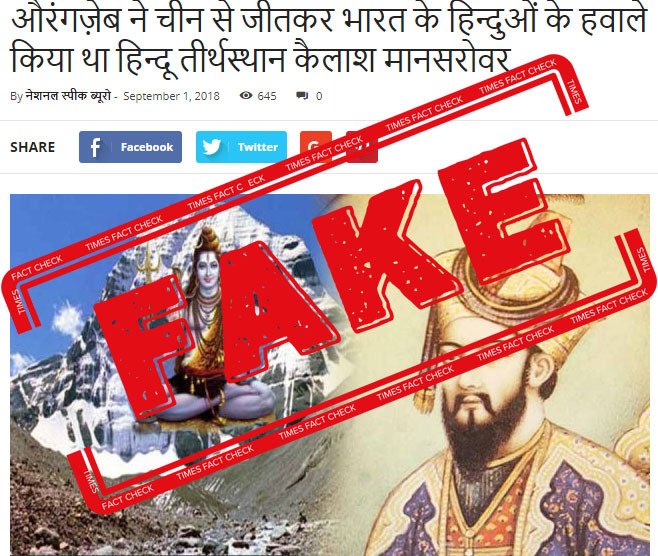 The fraudulent claims have been made by news websites like 'nationalspeak.in', 'theworldnewshindi.com' etc.
The dissemination of the bogus claim coincides with Congress President Rahul Gandhi's pilgrimage tour to Mansarovar.
As per the claims made by writer Mohammad Zahid in one of the news reports, in the year 1680, Aurangzeb wrote a letter to Qing dynasty ruler in China, asking him to hand over the territory of Kailash Mansarovar to then India as it was a matter of religious faith for Hindus.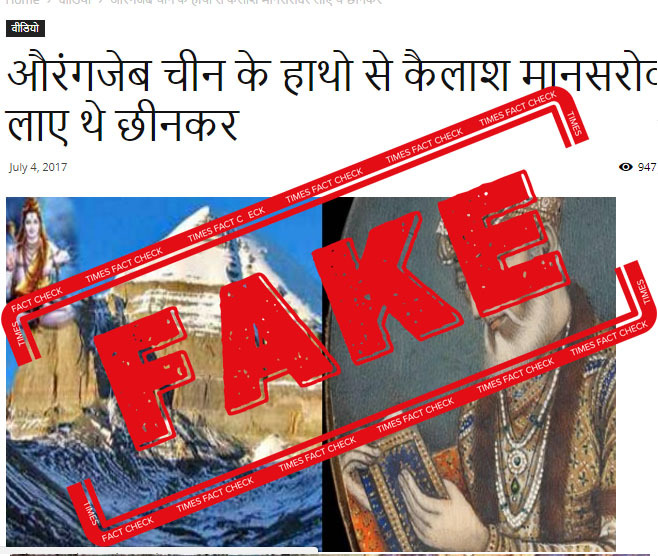 When Aurangazeb did not get a response even after 45 days from sending the letter, Aurangzeb, the "secular" Mughal king invaded China, did a "surgical strike" on them and captured Kailash Mansarovar in just one-and-a-half days.
VIRALITY
The fake reports were picked by a number of Twitter and WhatsApp users who made it viral.
Kailash Mansarovar won for Hindus by Aurangzeb https://t.co/YDf1vJy5Hb

— Rajesh Sinha (@rajeshsinha2009) 1536006119000
Kailash Mansarovar was occupoed by Chinese, fought back and restored in India by none other than Aurangzeb to help… https://t.co/B0Vfu8CAmE

— Adv. Faraz اشرف (@wowkeel) 1535715312000
TRUTH
The reality is far from what is claimed in these reports.
At the time of Aurangzeb's rule, Kailash Mansarovar was not part of Qing dynasty. The holy place was under then Tibet. Aurangzeb cannot seize control of Mansarovar from China when it belonged to Tibet, right?
VERIFICATION AND METHODOLOGY
Times Fact-Check got in touch with renowned historians to debunk the fake claims. They said Aurangzeb never mounted any military campaign against China or Tibet.
According to our in-house correspondent, who specializes in history and research, Aurangzeb did not indulge in any military battle with China. The sixth Mughal emperor wanted to get to China through Assam and for this, he did send his 'subahdar' Mir Jumla to Assam.
"Jumla eventually defeated Ahom Kingdom in 1662 but got bogged down thereafter and withdrew after spending a year in Assam. So Aurangzeb's China campaign never materialized. There were cultural and spiritual exchanges between China and the Mughal India, but an armed conflict against China by mughal empire never took place," he said.
We also spoke to Professor Nadeem Rezavi from Aligarh Muslim University. Rezavi confirmed that Aurangzeb never set his foot in China and that Mir Jumla died of malaria after he reached Assam.
Therefore, even if Aurangzeb did plan to capture China, it was never with the intention to free Kailash Parbat from its clutches.
As a part of our investigation, wWe did an extensive Google search with different keywords to trace the origin of this sham.
The hoax seemed to have been started by former Rajya Sabha MP Mohammad Adeeb, who during his speech against Modi government in Jantar Mantar in July 2017, where politician Yogendra Yadav was also present, claimed that "Aurangzeb was not anti-Hindu".
Adeeb said that when former PM Jawaharlal Nehru asked UN to pressurize China into returning Kailash Parbat to India, which China had conquered after a war with India, China refused saying that it had only taken back what was snatched away by Aurangzeb.
We did scout for information regarding this in authentic historical books available online but could not find a single reference to Aurangzeb gifting Kailash Mansarovar to Hindus.
We, in fact, did come across a sound historical claim, which said that it was a powerful Rajput ruler of Chand dynasty, Baz Bahadur, belonging to Kumaon region in current Uttrakhand, who landed in Tibet to grab Kailash Mansarovar.
VERDICT
Times Fact-Check team has found the claims of Aurangzeb defeating China to gift Kailash Mansarovar to Hindus to be fake.