CLAIM AND CLAIMEE

A video of a man, who looks like a Naga Sadhu, being beaten up, was shared widely across social media platforms and
WhatsApp
yesterday. Many social media users shared the video with claims that the man seen the video was indeed a
Naga Sadhu
and that he was beaten up by Muslim men.
Dehradun Police spoke to TOI and
clarified that the claims are fake and said that action will be taken against those who circulated the video on social media.
VIRALITY

Among those who shared the video with the fake claims on Twitter are actor Koena Mitra, My Nation editor Abhijit Majumder, columnist Shefali Vaidya, and many other anonymous handles.
Twitter handle @imamofpeace shared the video posted by a user named Shikha saying, "Islamic extremists in India beating up a poor and elderly Indian beggar. I truly wish this Islamist criminal is arrested soon," and tagged Prime Minister Narendra Modi in his tweet.
Many people who responded to this tweet claimed that the man seen in the video is a not a beggar but a Naga Sadhu. Social media users then quote-tweeted the tweets sharing the video saying a Naga Sadhu was attacked by Muslims. Koena Mitra's now-deleted tweet said, "He is a Naga Sadhu. This happens in our country everyday."
VERIFICATION AND METHODOLOGY
TOI got in touch with Dehradun Police who clarified that the man seen in the video is not a Naga Sadhu but a beggar. Police said that the incident took place on August 24 in Patel Nagar police station jurisdiction and said that the man is a drug-addict.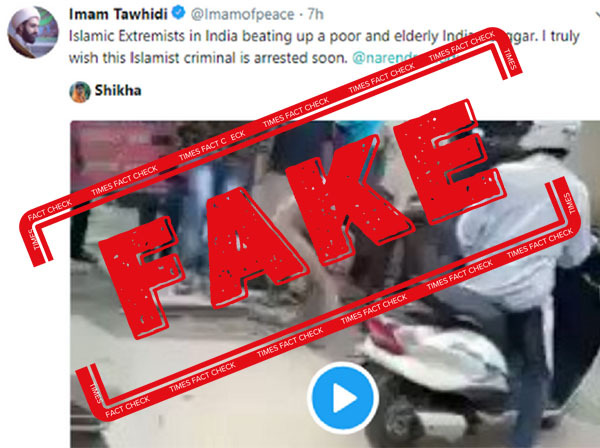 SSP Dehradun tweeted about the incident and in it, said that the man seen in the video is an impersonator and was arrested after he molested a woman under influence.

सोशल मीडिया पर एक व्यक्ति जिसे नागा साधु बताते हुए कुछ लोगों द्वारा पीटने का एक वीडियो वाइरल किया जा रहा है। उक्त… https://t.co/XZGXtWt6Uy

— SSP Dehradun (@DehradunSsp) 1535644795000
The man, now identified as Sushil Nath, a native of Haryana, entered a house and molested a woman, police said. When the woman raised an alarm, her brother — Shubham — intervened and thrashed the man using a stick along with some locals. SSP Dehradun tweeted this information as well.

@tsrawatbjp @uttarakhandcops @DehradunDm @annantsrivastav सोशल मीडिया पर एक व्यक्ति जिसे नागा साधु बताते हुए कुछ… https://t.co/pCvDBP8RtP

— SSP Dehradun (@DehradunSsp) 1535885434000
VERDICT
The video shared with claims that a Naga Sadhu was beaten up by Muslims are fake. Man seen in the video is a beggar who molested a woman and got beaten up by her brother and some locals who intervened and saved her.