News these days comes in shades of truth, half-truth and untruth. We see and hear it every day — in our emails, in our
WhatsApp
chats, during party conversations.
Often the fake news comes from sources and people we trust and believe implicitly. Sometimes the 'news' fits in so well with our own beliefs that we don't even think to question it.
The most common fake stories revolve around politics and the attempt is to polarise society, particularly during political events. Even while the US grapples with the issue of whether Russia influenced its elections, experts have warned that the Indian elections are at risk too.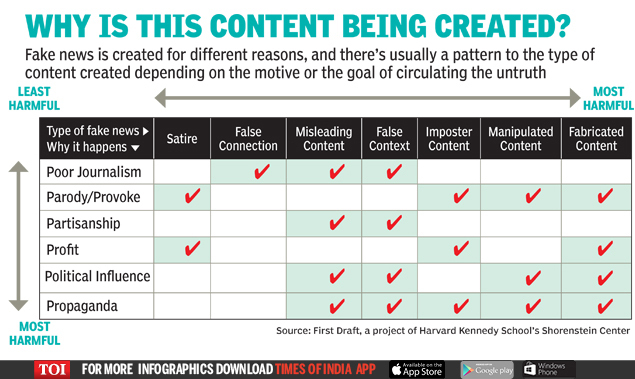 More recently 'fake news' has become a catch-all term to discredit genuine stories that make the people in power uncomfortable. In fact, it has been co-opted to mean anything the reader or the observer doesn't want to hear.
Attempts are also made by political parties — but not only by them — to confuse inadvertent errors with deliberate fakes. While unintentional errors must be pointed out, admitted to and corrected quickly and publicly, that's not fake news. Fake news is 'news' that has been created knowing full well that it isn't true. It is not accidental or a genuine mistake. It isn't even bias. It is a deliberate lie or a half-truth circulated with the intention to mislead people, or worse, cause harm to a section of people or a community.
Sure, there is a variety of fake news that's innocuous, made-up nonsense, which is circulated as jokes. But there is also a form of fake news that can take lives — like it has been doing in India with such shocking regularity over rumours about child-lifters and cattle thieves.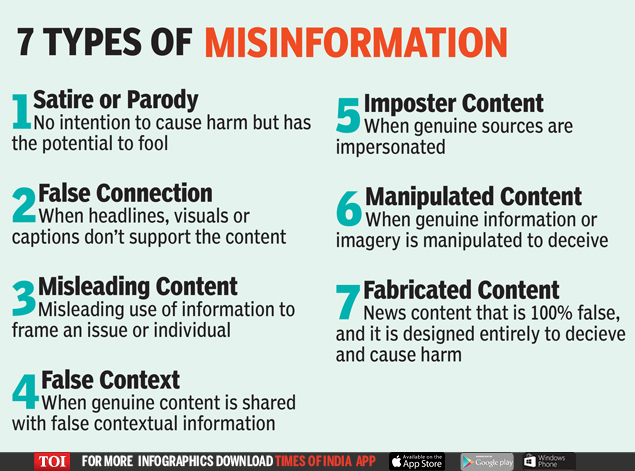 It's not just the big fakes, even small everyday half-truths have their side effects. They can gradually brainwash you into believing lies, or unfairly skew fair debate on crucial issues. They can lull you into believing that your illness will be cured if you follow that apple juice therapy you read about in a WhatsApp forward. More importantly, fake news leads to harassment and intimidation of innocent people and damages reputations.
We at TOI face the consequences of fake news every now and then. A TOI headline was photoshopped in a way that changed the meaning completely (see graphic below). Though we took it up legally, the attempt wasn't the first and it won't be the last.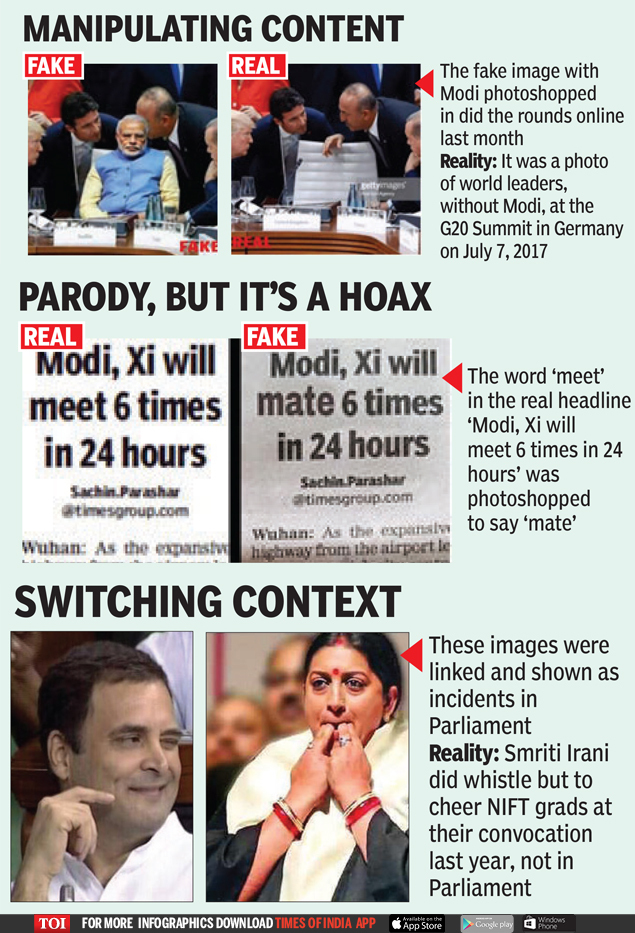 Was it meant to discredit us? Again, an attack on us (the mainstream media) is not just about us but you too. An unfairly discredited media (through means like these) benefits those who want to push their agendas. We plan to start a regular tracker of fake news and set the record straight whenever we can. We obviously cannot track all the fake news floating around but we can make an attempt to empower you so that you can more easily sift the truth from the lies. We need to put out this digital wildfire together and the only way to do that is by being aware. Sharing shouldn't be believing.