NEW DELHI: Thousands of farmers and labourers paralysed Delhi on Wednesday in a protest against what they called the anti-people policies of Prime Minister
Narendra Modi
's government, as opposition parties step up pressure ahead of key elections.
A sharp drop in commodity prices and stagnant wages have dented Modi's popularity in rural areas home to about two-thirds of India's 1.3 billion people, and key to his hopes of winning a second term in next year's general elections.
Traffic in many parts of central Delhi came to a halt as the protesters, many in red hats and waving red flags, marched towards Parliament Street in the heart of the capital. Some sat on pavements as honking vehicles moved slowly past.
"This country's farmers are very angry with the Modi government," said Karan Singh, a 58-year-old rice grower from Haryana, dressed in traditional white clothes.
"We're suffering losses and the government is not doing anything about it."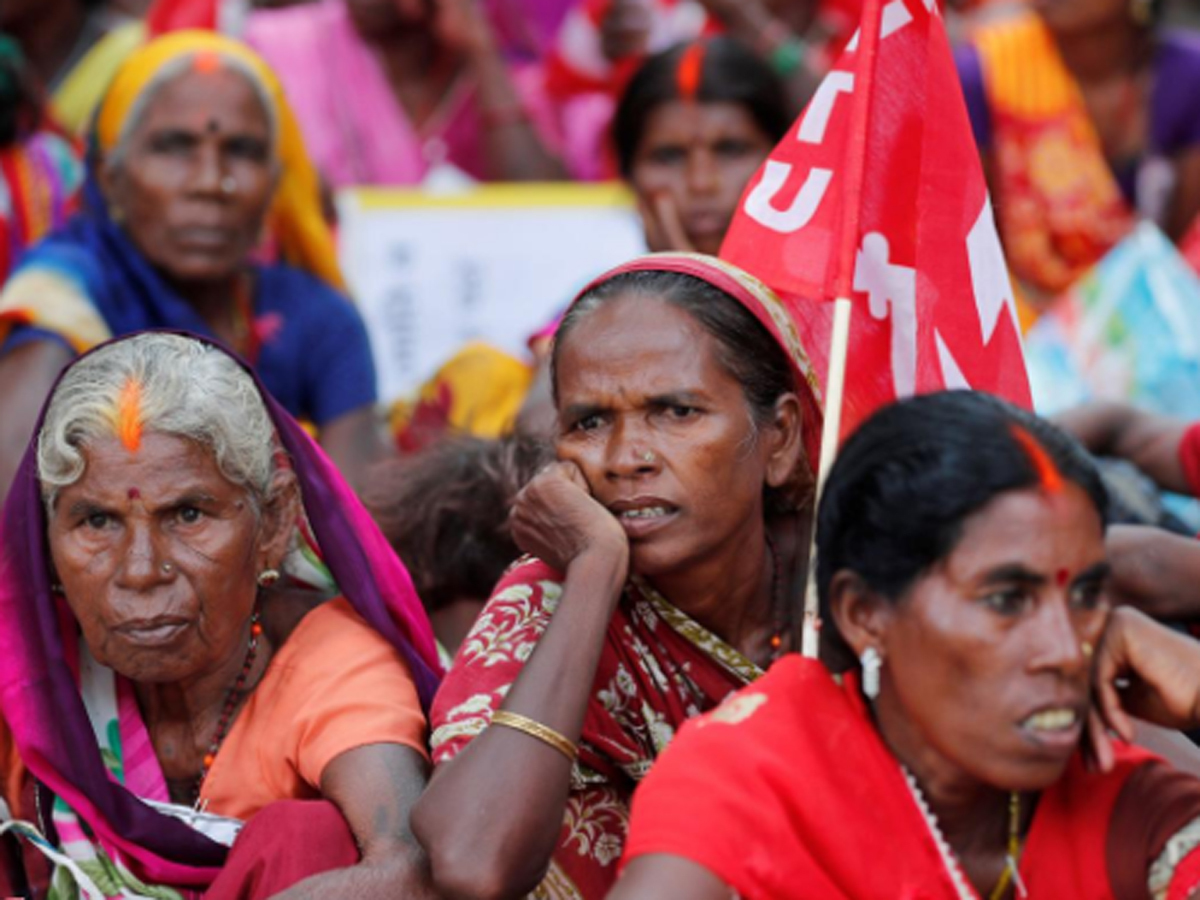 Protestors attend a protest against what they say is anti-people policies of Prime Minister Narendra Modi's government, in New Delhi (Photo: Reuters)
Modi's rural woes have been worsened by a failure to deliver on a promise of tens of millions of jobs for young people that helped him secure the largest mandate in three decades in 2014.
That vow has provided opposition parties their biggest stick to try and beat him with, in three big state elections this year ahead of next year's general election.
"This historic rally … demanding better wages, more jobs, better prices for farm produce, end to privatisation, stopping changes in labour laws, marks a new stage in the struggle of working people," the Communist Party of India (Marxist), which is leading the protest near parliament, said on Twitter.

This is the biggest rally of the working people that Delhi has seen in decades. The entire 1 km stretch from Parlia… https://t.co/hMYsgr5GKu

— CPI (M) (@cpimspeak) 1536135782000
Congress, the party that ruled India for most of its history and lost power to Modi's ruling Bharatiya Janata Party (BJP), said it supported the "fight back" by farmers. It is banding with other opposition parties to take on the prime minister.

#KisanMazdoorFightBack" data-createdat="1536131202000" data-id="1037235558114779136">
We stand with the farmers in their fight for getting an appropriate MSP, loan waiver and their rights on their land. #KisanMazdoorFightBack

— Congress (@INCIndia) 1536131202000
On social network Twitter, Union agriculture minister Radha Mohan Singh said the government was putting farmers first and working on initiatives such as easy credit to help meet Modi's target of doubling their income by 2022.

#Misson2022 : सशक्त नीति- गुणात्मक परिणाम
#DoublingFarmersIncome
https://t.co/XjALRflths" data-createdat="1536130369000" data-id="1037232065672953857">
In July, the government sharply hiked state-mandated prices for summer crops, including rice, that had been raised only by low single-digit figures during Modi's first four years in office.
In June, vegetable prices jumped 10 percent in major cities after a strike by millions of farmers to press demands such as loan waivers and higher prices for produce.
Some of Wednesday's protesters were sceptical of the government effort.
Asked about Modi's plans to double farmers' income, Singh, the Haryana rice cultivator, responded, "He can't, and won't, do it."