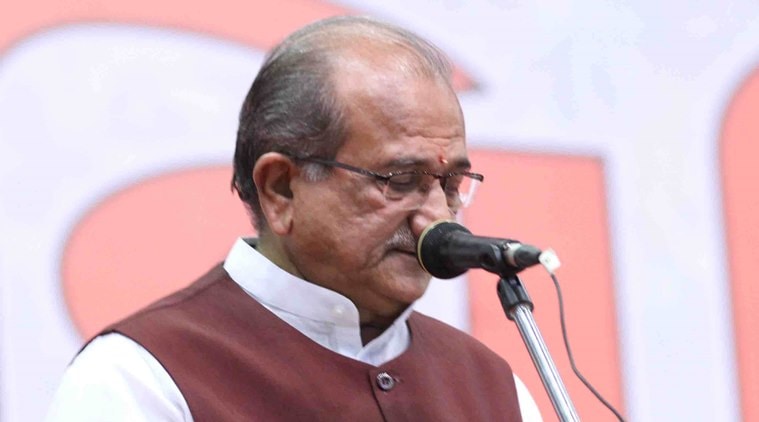 Education Minister Bhupendrasinh Chudasama exhorted the students to think of innovative ways to recycle water and develop desalination technologies at lesser costs.
As Gujarat stares at water scarcity this summer, the issue dominated state Education Minister Bhupendrasinh Chudasama's address during the inauguration of the Student Start-up Innovation Policy (SSIP) Hub and an annual start-up meet at the Knowledge Consortium of Gujarat (KCG) campus in Ahmedabad on Thursday. The minister exhorted the students to think of innovative ways to recycle water and develop desalination technologies at lesser costs. The state government has launched, Sujalam Sufalam Jal Abhiyan, a month-long water conservation campaign to promote water conservation in the state.
The SSIP was launched in January 2017. The minister said that he had postponed his weekly visits, undertaken by ministers and their teams to review the ongoing water conservation campaign in different constituencies, from Thursday to Saturday. He appealed to the students to innovate ways and come up with start-ups to reduce costs of water recycling as well as desalination costs. "Start-up for me is solution to a problem. Looking at the water scarcity issue, recycling of water is very expensive these days. Why don't some of you come up with such an innovation where this cost is reduced?" Chudasama said during his inaugural address.
He also suggested students to innovate for desalination at lesser costs. "On the lines of Israel's technology where they desalinate water, Gujarat too is working in that direction. Chief Minister Vijay Rupani has already announced it. But you can develop technology where, for instance, if the current desalination costs for 1,000 litre of water is Rs 5,000, it can be reduced to Rs 1,000," he said.
The SSIP hub will showcase the work undertaken by the students of SSIP. It is a temporary set-up which will soon be replaced by a permanent eight-storey building at an estimated cost of Rs 35 crore. "A bigger SSIP hub that will accommodate several hundred of students for start-ups will come up in KCG campus in place of this temporary set-up. Out of the total cost of 35 crore, Rs 10 crore has already been sanctioned by the state government in this year's budget," Principal Secretary (Technical and Higher Education) Anju Sharma said. Last year, nearly Rs 7 crore was released for start-ups from 24 colleges under 17 universities as compared to 29 colleges and six universities this year so far. "This year, till March, we have released Rs 3.95 crore," Sharma added.
For all the latest India News, download Indian Express App