India had around 21.40 lakh people living with HIV/AIDS in 2017, but adult
HIV
prevalence among 15-49-year-old people has been declining, and was estimated at 0.22% for last year. Also, at 69,000 AIDS-related deaths in 2017, the annual decline is almost 71%. But the declining rates don't tell the full story as there are several states showing a rising trend.
Mizoram had the highest adult HIV prevalence in 2017, followed by Manipur at 1.43% and Nagaland at 1.15%.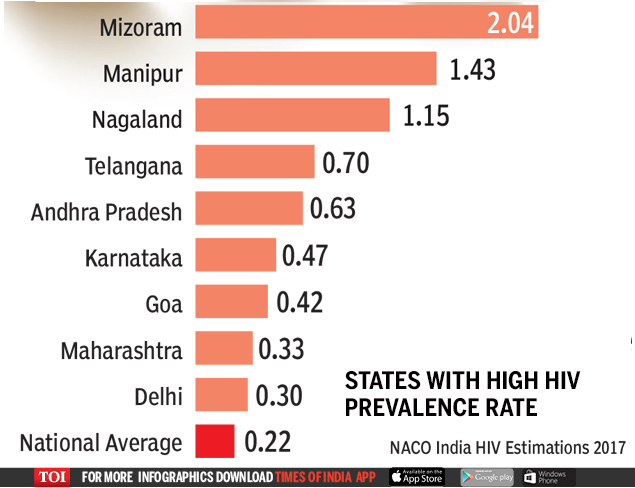 Maharashtra accounted for 15% of the national total. It was followed by Andhra Pradesh, Karnataka, Telangana, Bengal, Tamil Nadu, UP and Bihar.
Around 87,000 new HIV infections were reported in 2017, marking an 85% decline in annual new HIV infections since the peak of 1995. New infections have increased in Arunachal Pradesh, Assam, Mizoram, Meghalaya and Uttarakhand . On the other hand, Bihar, Bengal, Telangana, Delhi, Jharkhand and Haryana had decline rates lower than national average.
Telengana topped in new HIV infections with about 9,324 new cases in 2017, which accounted for 11% of total new HIV infections. It is followed by Bihar, Bengal, UP, Andhra Pradesh, Maharashtra, Karnataka and Gujarat. Together these 8 states account for two-thirds of all new annual HIV infections in India.