NEW DELHI: The

Jet Airways Boeing 737 which went off paved area of Riyadh Airport


+
last Friday (August 3) had attempted to take off using full power from a taxiway parallel to the runway from where it was supposed to get air borne for Mumbai.
Saudi
aviation authorities made this damning finding public following a probe into the incident which had happened at 00:03 hours local time
Riyadh
.
"Jet Airways B-737 (VT-JFS) flight (9W) 523 headed to Mumbai with 141 passengers and seven crew members overshot taxiway at KKIA (King Khalid International Airport at Riyadh). Initial factual information confirms that the aircraft attempted take off from taxiway parallel to take off-designated runway while visibility was high and no obstacles or FOD (foreign object debris) on the taxiway. The aircraft accelerated with full take off power and exceeded the taxiway on to unpaved area ending up close to the exit of taxiway," Saudi Arabia's Aviation Investigation Bureau (AIB) said in a statement.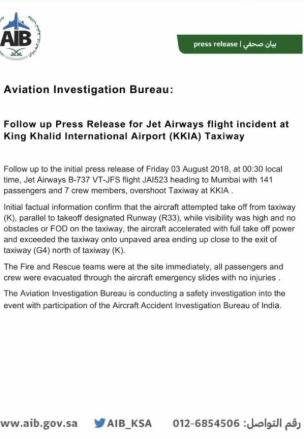 "The fire and rescue teams were at the site immediately, all passengers and crew were evacuated through the aircraft emergency slides with no injuries. The AIB is conducting a safety investigation into the event with participation of the Aircraft Accident Investigation Bureau of India," it added.
The airline's comments on this report from Saudi authorities was sought at the time of filing this report and the same will be updated when they do so.
Jet had last Friday said that the incident happened when their plane was trying to take off from the runway. "Our flight 9W 523 with 142 guests and 7 crew members from Riyadh to Mumbai of 3rd August aborted takeoff and departed the runway at Riyadh Airport. All our guests and crew have been evacuated safely with no reported injuries," the airline had said.
But the preliminary probe by Saudi authorities has found that the lane was trying to take off from a taxiway parallel to the take off-designated runway at full power.