BENGALURU: Even as the JD (S)-Congress government is gearing up for cabinet expansion after the inauspicious Ashada month ends on August 11, political circles are agog with speculation that there are moves to bring down HD Kumaraswamy's 10-week-old government.
At least 8-10 disgruntled Congress MLAs are reportedly looking to join hands with the BJP to fell the coalition government. The strategy is to make Congress MLAs tender their resignation to the assembly and bring down the strength from 112 to 104 — below the magic number — to ensure a simple majority and pave the way for the saffron party to stake its claim to form the government.
Congress sources dismissed these reports as speculation being stage managed by party men to put pressure on the high command to get cabinet berths in the Kumaraswamy government. "We won't heed such pressure tactics,'' a senior Congress leader said.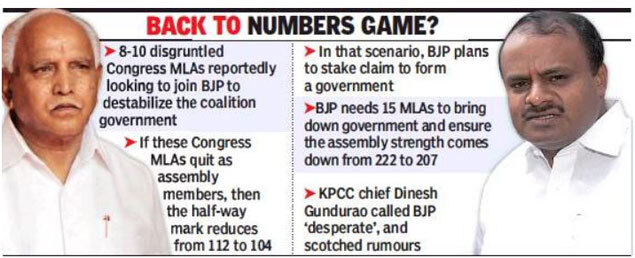 BJP state unit chief BS Yeddyurappa met national party chief Amit Shah and national general secretary (organisation) Ram Lal in New Delhi on Tuesday, purportedly to seek their clearance to dislodge the coalition. BJP sources said that Shah and Lal asked Yeddyurappa not to be hasty.
Officially, party sources said Yeddyurappa met them for preparations for the 2019 Lok Sabha polls.
Lending credence to these reports, KPCC chief Dinesh Gundurao accused BJP of trying to poach Congress MLAs by luring them with power and money. "The BJP is desperate and trying to bring down this government. They cannot bear to be out of power. They're trying everything possible to bring down the government, but they will not succeed," he added.
Jarkiholi says he won't ditch party


The speculation took root after municipal administration minister Ramesh Jarkiholi along with six MLAs left for New Delhi on Monday, reportedly on the same flight in which Yeddyurappa was travelling. Gundurao dismissed these reports, claiming Jarkiholi and other MLAs had gone to Delhi to meet senior leaders.
Jarkiholi said he went to Delhi to meet party leaders and he wouldn't ditch the party at any cost.
"If I want, I can bring 10 BJP MLAs into the Congress. Why should I go to there?" he asked.
BJP sources said the 8-10 disgruntled Congress MLAs are in touch with party leaders and even inclined to resign.