NEW DELHI: Prime Minister Narendra Modi's cavalcade on Saturday was spotted on the roads of the capital sans the requisite security route.
The Prime Minister whose security is looked after by Special Protection Group (SPG), was on his way for Swachhata Shramdan to a school in the capital.
On its way, the cavalcade got stuck in the traffic, pictures of which were shared by several people online.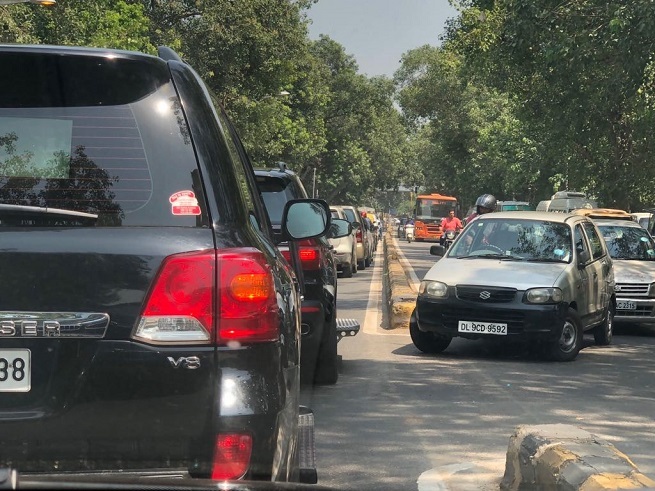 In another picture, the cavalcade can be seen patiently waiting for a light to turn green at an intersection.

As the cavalcade made its way through the congested streets and roads of Delhi, general traffic was allowed to flow unhindered.
In a video, the Prime Minister's cavalcade can be seen running next to a long queue of bikes uncomplainingly.
PM Modi reached the city's Baba Sahib Ambedkar Higher Secondary School in Paharganj and took up a broom to clean the surroundings. As part of his 'shram daan' or voluntary work, he cleaned the school surroundings with a broom.
Earlier, he interacted with people via a video link to launch "Swachhata Hi Seva" movement, a fortnight-long event.
The 'Swachhata Hi Seva' movement aims at generating greater public participation towards swachhata (cleanliness) and is being organised in the run-up to the fourth anniversary of the
Swachh Bharat Mission, on October 2 2018, which will also mark the commencement of the 150th birth anniversary celebrations of Mahatma Gandhi.