NEW DELHI: Nobody knew where it came from, but there it was. Millions of mobile phone users found an unexpected intruder in their phone contact list on Friday — an invalid Unique Identification Authority of India (UIDAI) toll-free number.
Late at night, Google issued a statement saying that an internal review had revealed that the number, 18003001947, and the distress helpline number 112, were "inadvertently coded into the SetUp wizard of the Android release given to OEMs for use in India and remained there since". Users can manually delete the number, it added.
Our valid Toll free number is 1947 which is functional for more than the last two years. 4/5

— Aadhaar (@UIDAI) 1533288415000
UIDAI has reiterated that it has not asked or advised anyone including any telecom service providers or mobile man… https://t.co/MgADTsZU5t

— Aadhaar (@UIDAI) 1533288434000
Google's statement put to rest a fresh controversy that had erupted involving Aadhaar, with Android phone users wondering how a number could enter their phone book without their consent.
As the controversy raged, UIDAI and telecom operators denied any role in the matter. Sources in Apple and Google, the companies that own Android and iOS — the two most widely used mobile operating systems — denied any role and promised a probe. After the initial denial, Google's review solved the mystery.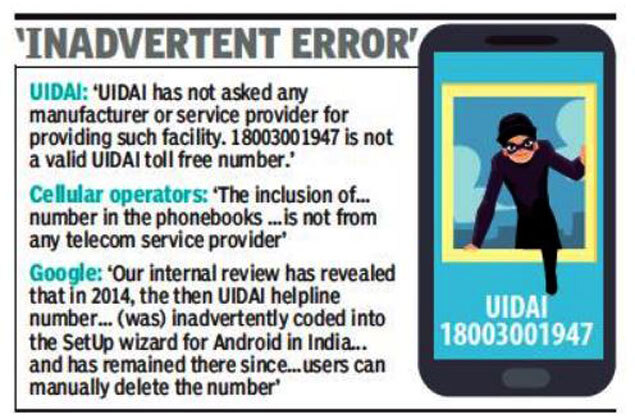 The issue first came to light on Friday when several mobile phone users uploaded images of UIDAI's defunct toll-free helpline (18003001947) in their contact list on social media. Amidst fresh privacy concerns, the government swung into action with IT minister Ravi Shankar Prasad convening a review meeting.
This is the code added by @Google to add the @UIDAI phone number by default in your contact list. This code is stil… https://t.co/0ohJmDVZWf

— Elliot Alderson (@fs0c131y) 1533323848000
Will work to fix issue, says Google
As outrage and criticism built up on Friday, UIDAI denied reports that it had issued any instruction to add this number to mobile phones. It termed the number appearing on the contact list as "invalid", saying its tollfree number is '1947' and not the one on their phone book.
"UIDAI has not asked or communicated to any manufacturer or service provider for providing any such facility. Some vested interests are trying to create unwarranted confusion in the public," it said. "UIDAI has reiterated it hasn't asked or advised anyone, including any telecom service providers or mobile makers or Android, to include 18003001947 or 1947 in the default list of public service numbers," the statement said.
Aadhaar CEO Ajay Bhushan Pandey told TOI that the Indian Computer Emergency Response Team (CERT-In) had started an investigation into the issue.

This is the second row involving Aadhaar in just over a week. Last week, Trai chairman RS Sharma was trolled after making his Aadhaar number public, and throwing a challenge to hackers to "cause harm".
The Cellular Operators Association of India (COAI) too washed its hands off the row. "The inclusion of a certain unknown number in the phonebooks is not from any telecom service provider," COAI said in a statement.
An unverified official release issued by the telecom department in 2013 also surfaced on social media. It informed all mobile operators to "map short code '1947' to UIDAI's toll-free number 1800-300-1947 with immediate effect and send compliance to UIDAI directly."
A Google spokesperson said: "Our internal review has revealed that in 2014, the then UIDAI helpline number and the 112 distress helpline number were inadvertently coded into the SetUp wizard of the Android release given to OEMs for use in India and has remained there since. Since the numbers get listed on a user's contact list, these get transferred accordingly to the contacts on any new device. We are sorry for any concern that this might have caused, and would like to assure everyone that this is not a situation of an unauthorised access of their Android devices. We will work towards fixing this in an upcoming release of SetUp wizard, which will be made available to OEMs over the next few weeks."