NEW DELHI: NEW DELHI: Using a poem to voice her dissent, West Bengal chief minister
Mamata Banerjee
on Monday wrote that an individual's identity is defined by their political affiliations, their lifestyle choices and their (lack) willingness to comply with the ruling party's diktats.
In the poem, the Trinamool Congress chief also voiced her opposition of Assam's draft National Register of Citizens (NRC) and the Modi-led government at the Centre.
Written in three different languages — Hindi, English and Bengali — the poem, titled "Identity", was posted on her Facebook account.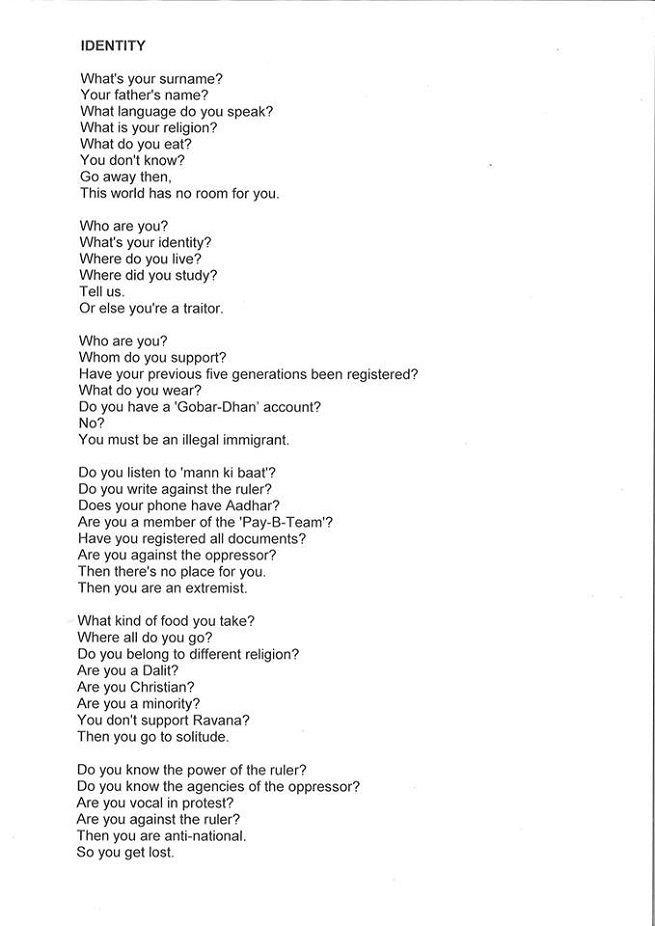 (Photo courtesy: Mamata Banerjee/Facebook)

The poem starts by saying that an individual has no identity in this world if he has no surname if he is not aware of his father's name, his religion, and his eating habits.
It is in the third stanza that the poem attains a more direct political tone. It says, an individual who is not aware of their affiliation (political), documentation status of their previous five generations, their choice of dressing and their does not have a "gobar-dhan" account then he is most likely to be branded as an illegal immigrant.
The second and final draft of Assam's National Register of Citizens (NRC) was released on July 30 which excluded the names of over 40 lakh people.
In the next paragraph, the poem targets Prime Minister Narendra Modi. It says a person is branded as an "extremist" if he/she doesn't listen to 'Mann ki Baat' or doesn't have his/her Aadhaar number linked to his phone number.
Banerjee, who has been vocal about her anti-BJP stand, also slammed the saffron party over its treatment of Dalits, Christians and other minority communities, in the poem.
In the last paragraph, the poem says that a person is branded "anti-national" if he/she raises their voice against the ruler.